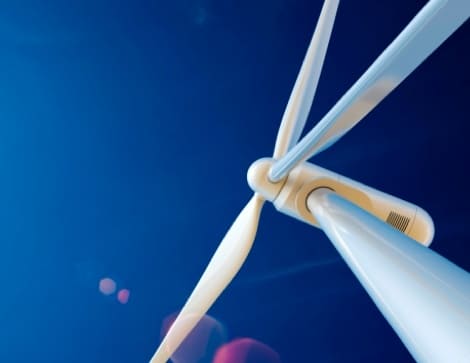 Lubrication Systems
Proper mechanical lubrication is essential to preserving the functional longevity of your application. JWF Technologies partners with ILC Lubrication Systems to meet the industrial lubrication needs of our customers, featuring a range of fully automated, centralized systems that enable precise and timely lubricant transfer. This more efficient lubrication process achieved by ILC products translates to significant cost-savings and environmental benefits compared to traditional techniques. We also offer quality single point lubricators from Pulsarlube.
Lubrication Brochure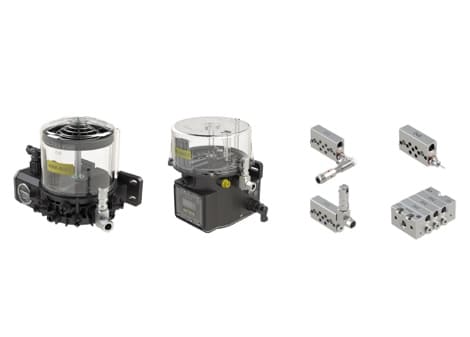 Progressive Lubrication
A progressive lubrication system is the most reliable and cost-effective offered by ILC and is highly recommended for automotive and industrial applications where accurate, sensor-controlled grease and oil measurement is vital. Featuring three types of progressive metering, this system can be combined with either automatic or manual pumps or powered directly from a single internal source. The number of outlets a progressive distributor can have ranges from 3-20, which ensures an appropriate quantity of lubricant for each individual friction point.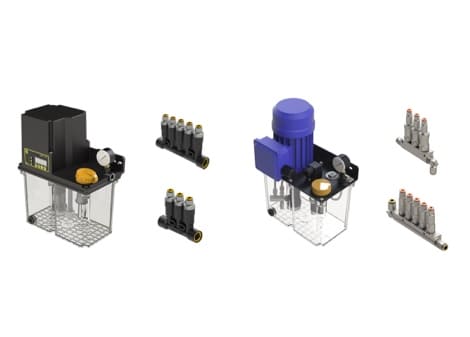 Volumetric Lubrication
A volumetric lubrication system, or Positive Displacement Injector (PDI) system, utilizes manual or automatic pumps combined with volumetric metering valves to dispense a predetermined amount of oil or soft grease to points that are unaffected by temperature or lubricant viscosity. This kind of system is designed for low or medium pressure applications and are highly precise in their lubrication delivery - some are even adjustable - allowing for a single injector manifold to be used to deliver customized levels of lubricant to specific points.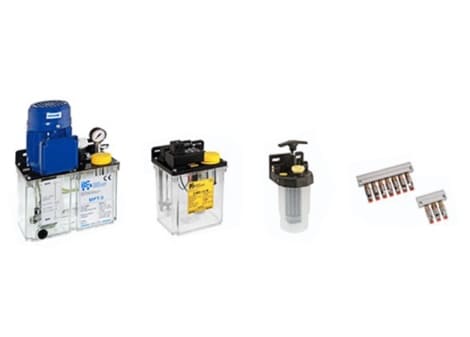 Resistive Lubrication
A resistive lubrication system is highly cost-effective and minimally complicated in terms of operation and installation compared to others. They handle oil exclusively and utilize metering units combined with either automatic or manual pumps to deliver continuous or intermittent lubrication, depending on the metering and supply type. Resistive lubrication systems are especially suitable for overhead contact lines on agricultural equipment and smaller mechanical applications.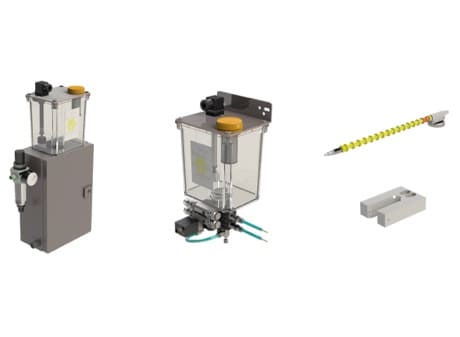 Minimal Lubrication - ILC LUBETOOL
The micro-lubrication units offered in the ILC LUBETOOL line are designed to lubricate removal/deformation operating tools and components responsible for movement and rotation in a minimal capacity. A minimal lubrication system prevents heat build-up and controls heat distortion on tool and components during cutting operations, resulting in dramatically improved efficacy and longevity. This reduces costs associated with maintenance and replacement, as well as safety issues posed by handling and storing hazardous cleaning chemicals as the system may be cleaned with a simple mixture of soap and hot water.
Micro-Lubrication Systems Brochure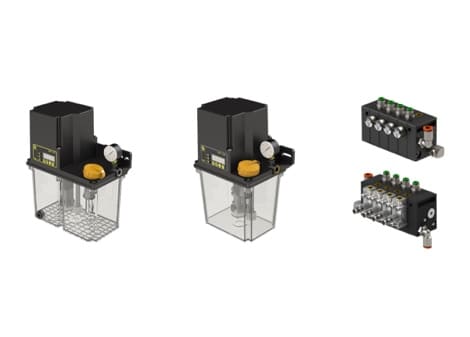 Air/Oil Lubrication - ILC SPINDLE
The air/oil lubrication systems offered in the ILC SPINDLE line utilize innovative technology to lubricate bearings and components in high-speed spindle applications including electric spindles and mechanical processing heads. When used in combination with an inductive sensor, the system offers real-time verification of lubricant dispersal towards the desired points the minute each discharge occurs.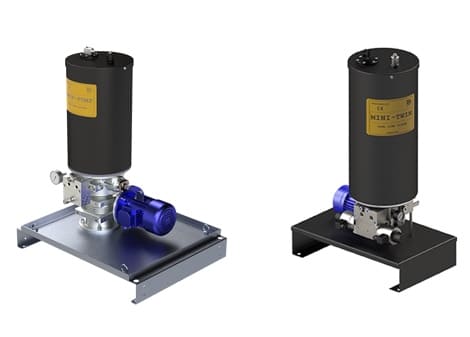 Dual-Line Lubrication
A Dual-Line lubrication system (or Double-Line system) is designed for high performance applications in which continuous duty operation is required, particularly under harsh or extreme conditions. Some keys benefits of a Dual-Line system include the ability to add lubrication points as needed without a complete redesign, absence of return springs which eliminates related malfunction in metering piston suction/delivery, and continuous lubrication of remaining points even if one feed line is blocked.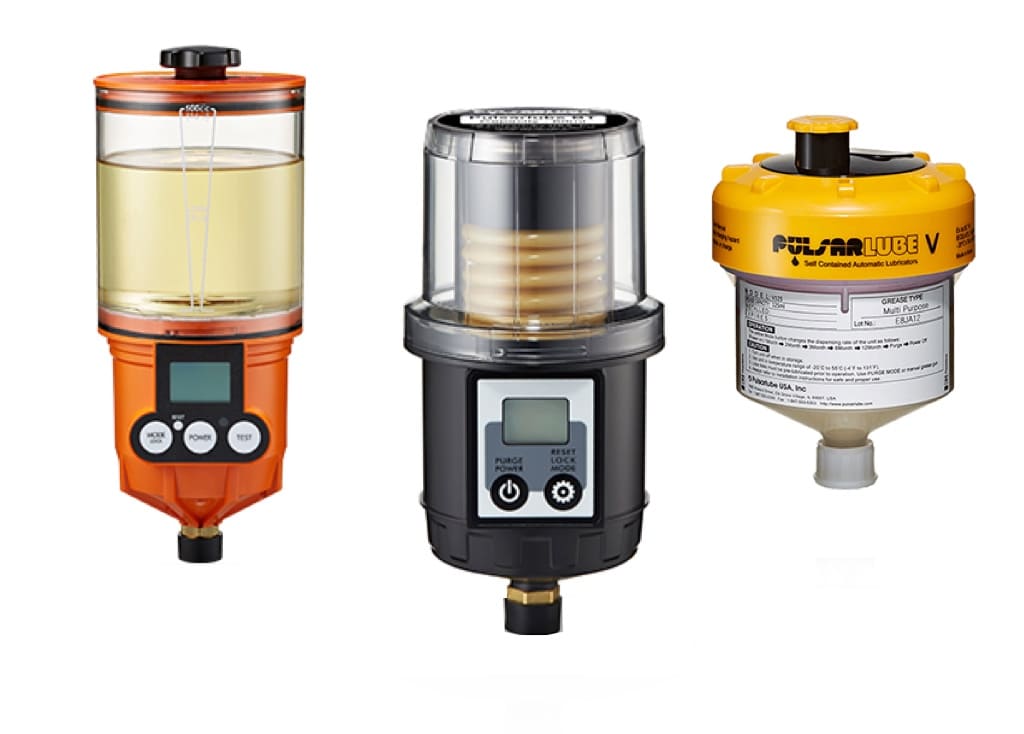 Single Point Lubricators - Pulsarlube
Single point lubrication systems are ideal for less complex mechanical applications that require automatic lubrication at only one point, such as robotic units, pumps, blowers and more. They also solve challenges related to delivering appropriate lubrication to machinery located in remote or restricted access areas. JWF Technologies is proud to partner with Pulsarlube (Pulsarlube Manufacturer Page) to offer single point lubrication systems to our customers in need of a simplified or more targeted lubrication solution.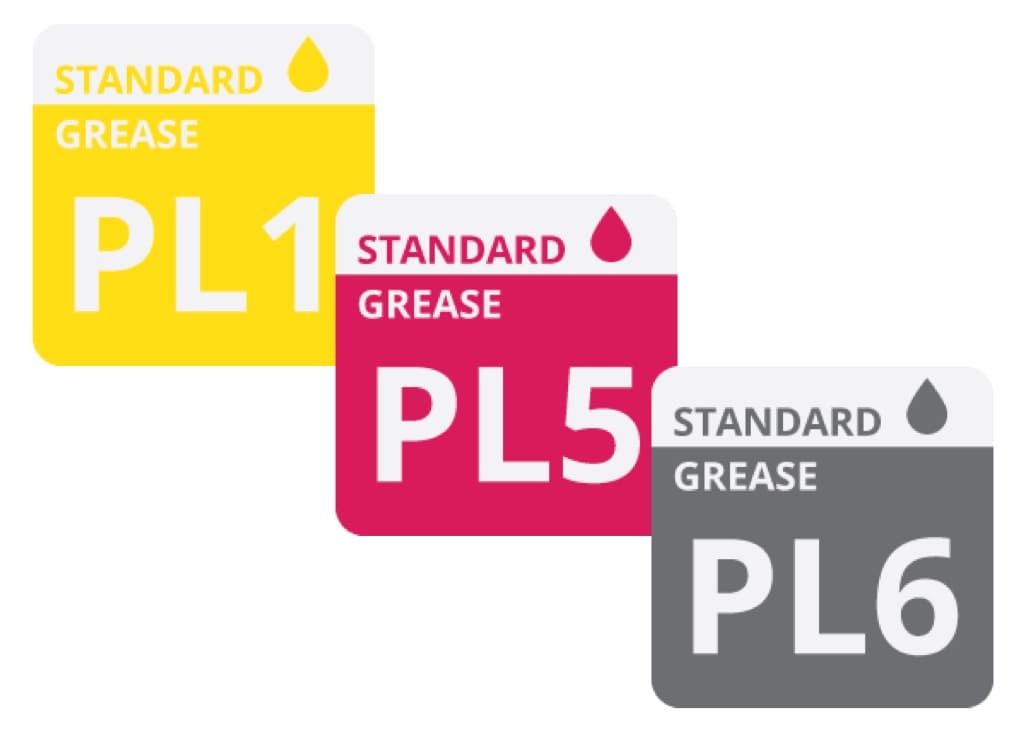 Industrial Lubricants - Pulsarlube
Choosing the right lubricant is just as critical to the successful function of your application as the lubrication system itself. While universal lubricants are perfectly appropriate for many applications, there are others that require a more specialized solution than the latter can provide. JWF Technologies is pleased to offer a full line of industrial lubricants by Pulsarlube that are custom formulated to satisfy specific operational conditions including speed and temperature, ensuring peak performance.
Lubricant Types

PL1 (Multipurpose)
PL2 (Heavy Duty)
PL3 (High Speed)
PL4 (H1 Food Grade)
PL5 (High Temperature)
PL6 (Multipurpose with MoS2)
PL7 (Low Temperature)
PL10 (Motor Bearing)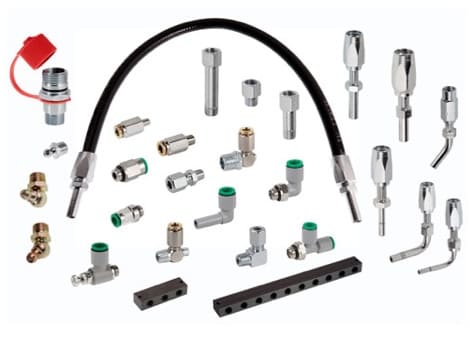 Fittings & Accessories
For high-pressure applications, ILC Lubrication Systems offers a vast range of compression fittings and push-in fittings designed to be used in conjunction with either flexible or rigid AP nylon pipes. Also available are a variety of flow and pressure control accessories plus supply and intake filters.
QUESTIONS? CONTACT US.
If you require additional information on JWF's gas spring, hydraulic, pneumatic, and electromechanical products or custom engineering capabilities, contact us. We'd be happy to assist with anything you need! Fill out the required fields in the form below and submit your inquiry. A member of our team will be in touch with you shortly.