JWF Manufacturer & Supplier Partnerships
JWF Technologies is a proud distributor of a broad selection of products and components from innovative and respected manufacturers and suppliers. We carry and utilize products including gas springs, pumps, motors, couplings, cylinders, valves, hoses & fittings, cables, power units, manifolds, and much more to meet your fluid power system, motion control, and custom application needs. We guarantee the best results because we only partner with industry leaders in cost-effectiveness, reliability, and quality. Learn more about each of our manufacturers below.
Power Engineering and Manufacturing (PEM)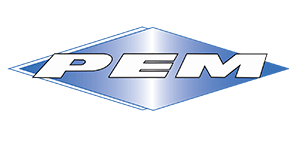 Power Engineering and Manufacturing (PEM)
Power Engineering and Manufacturing (PEM) is an electronic, mechanical, and software engineering company that designs and manufactures electromechanical, linear, and rotary actuators. PEM specializes in developing standard solutions for mobile, industrial, pharmaceutical, and HVAC markets. PEM also partners with JWF to design custom actuators for any application our customers require. The decades of engineering experience PEM has ensures their quality components can provide precision and reliability to solve any motion technology challenge you're facing.
The PEM Advantage
PEM is confident in the quality their actuators and the satisfaction of their customers. Their fully integrated solutions are competitively priced, and PEM also ruinously tests their actuator products to comply with ISO 9001 quality control standards and to meet their own strict internal requirements. If you have unique system requirements, JWF and PEM will work with you to customize a solution for controlling valves and other internal components with excellent precision.
Reliable Actuator Solutions
Electromechanical Actuators
Linear Actuators
QUESTIONS? CONTACT US.
If you require additional information on JWF's gas spring, hydraulic, pneumatic, and electromechanical products or custom engineering capabilities, contact us. We'd be happy to assist with anything you need! Fill out the required fields in the form below and submit your inquiry. A member of our team will be in touch with you shortly.