About JWF Technologies
JWF Technologies is a fluid power and motion control components distributor with advanced custom engineering capabilities. Our vast product offering includes hydraulic, pneumatic, electromechanical components and more from major manufacturers. In fact, JWF is the largest North American distributor of Stabilus gas springs. We pride ourselves on being able to deliver timely order-fulfillment and design assistance to a wide variety of customers in the mobile, medical, industrial, material handling, furniture, and food processing industries. We have locations in Cincinnati, Cleveland, Detroit and Ontario, Canada to fully serve our customer base in North America. While we offer an unparalleled ability to deliver large-scale solutions, there is no call is too small at JWF! We understand your needs and can gladly handle orders from 2 to over 2,000 products with the same commitment to service.
ONE COMPANY,
THOUSANDS OF COMPONENTS,
CUSTOM SOLUTIONS
We understand that off-the-shelf components don't always fit your needs. With our expertise in delivering custom designed solutions, built to your specifications, we can solve your application need in an efficient time frame that works for you. JWF Technologies offers a complete suite of custom engineering services including application design assistance, product development, engineering support, and quick-to-market execution. With more than four decades of experience in the fluid power industry, we can design custom application solutions to meet your organizational needs such as cost efficiency, rapid assembly time, and increased reliability.
JWF Technologies Literature
For more information on JWF Technologies, and all that we can offer, explore our literature offerings below. If you have any questions about the components we source from our trusted supplier partners, or about our custom engineering process, contact us today!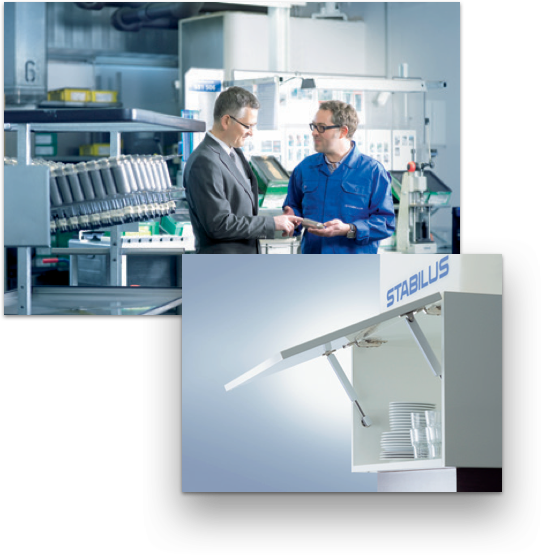 Stabilus - World Leader in
Motion Control
JWF Technologies is proud to be the largest distributor of Stabilus gas springs in North America. Stabilus, inventor of the world's first standard production gas spring for the automotive market, is now a world leader in motion control, making over 450,000 gas springs per day. Stabilus' innovative products serve a broad spectrum of applications in industries such as automotive, furniture, manufacturing, solar, medical technology, and industrial. At JWF Technologies we can help you with:
Lift Assist with LIFT-O-MAT gas springs for automotive and industrial use
Locking with BLOC-O-LIFT gas springs for rigid or elastic lock and mounts
Dampening with STAB-O-SHOC hydraulic dampers for dampening motion and vibration
Choose from our massive inventory of Stabilus gas springs for lift assist, lock-in-position, and dampening ergonomic motion applications. We offer immediate delivery of Stabilus gas springs as well as application design assistance from our expert JWF engineers for a custom solution.
Browse Components
QUESTIONS? CONTACT US
If you require additional information on JWF's gas spring, hydraulic, pneumatic, and electromechanical products or custom engineering capabilities, contact us. We'd be happy to assist with anything you need! Fill out the required fields in the form below and submit your inquiry. A member of our team will be in touch with you shortly.