JWF Manufacturer & Supplier Partnerships
JWF Technologies is a proud distributor of a broad selection of products and components from innovative and respected manufacturers and suppliers. We carry and utilize products including gas springs, pumps, motors, couplings, cylinders, valves, hoses & fittings, cables, power units, manifolds, and much more to meet your fluid power system, motion control, and custom application needs. We guarantee the best results because we only partner with industry leaders in cost-effectiveness, reliability, and quality. Learn more about each of our manufacturers below.
ASA Hydraulik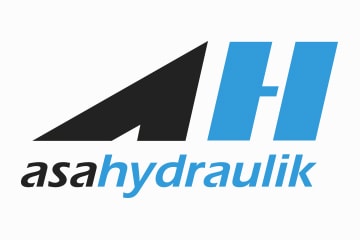 ASA Hydraulik
With more than 30 years of experience in heat transfer equipment, ASA Hydraulik has become a global leader in advanced technologies, ensuring competitive pricing, consistent product performance, and reliability. ASA Hydraulik is dedicated to quality and is ISO 9001:2008 Certified for development, design, production, and sales of oil coolers and hydraulic components. ASA is a trusted supplier of JWF Technologies, offering reliable, high-performance temperature control solutions for heat removal in hydraulic applications within the industrial and mobile industries.
Modular Construction Fit for Any Application
ASA Hydraulik offers modular construction cooler, based on total cooling system integration, serving nearly any application where a cooler is necessary. With their patented universal connector system, you can be confident that the cooler you choose will not only connect to your system, but also reduce pressure drop in the system with the stream optimized design.
High Performance Heat Exchangers & Accumulators
TT 11 rail Hydraulic Motor
TT 16 rail Hydraulic Motor
TT 25 rail Hydraulic Motor
ASA 0177 Hydraulic Motor
ASA 0275 Hydraulic Motor
ASA 0367 Hydraulic Motor
ASA 0467 Hydraulic Motor
ASA 0567 Hydraulic Motor
ASA 0927 Hydraulic Motor
HL HighLine 0929 Hydraulic Motor
QUESTIONS? CONTACT US.
If you require additional information on JWF's gas spring, hydraulic, pneumatic, and electromechanical products or custom engineering capabilities, contact us. We'd be happy to assist with anything you need! Fill out the required fields in the form below and submit your inquiry. A member of our team will be in touch with you shortly.