JWF Manufacturer & Supplier Partnerships
JWF Technologies is a proud distributor of a broad selection of products and components from innovative and respected manufacturers and suppliers. We carry and utilize products including gas springs, pumps, motors, couplings, cylinders, valves, hoses & fittings, cables, power units, manifolds, and much more to meet your fluid power system, motion control, and custom application needs. We guarantee the best results because we only partner with industry leaders in cost-effectiveness, reliability, and quality. Learn more about each of our manufacturers below.
Guardian Couplings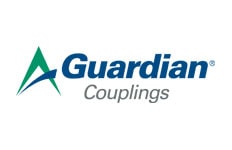 Guardian Couplings
Guardian Couplings, a manufacturer of reliable coupling components and supplier of JWF Technologies, has been around for more than 70 years. Their component solutions serve many industrial applications within key industries such as mobile hydraulics, agricultural, construction, food & beverage, material handling, automation, and many more. Since their founding in 1941 and through their continued product expansion, Guardian Couplings has become well known for their proven, highly reliable components.
Premier Coupling & Drive Solutions
Guardian Couplings manufactures premier drive and coupling solutions that are not only able to provide reliability, but that can meet some of the most challenging and complex requirements. Their product range is utilized in industrial applications around the world and includes standard components such as flywheel couplings, flexible shaft-to-shaft couplings, motion control couplings, and compression pipe couplings. Many of their coupling products include an SAE assembly or can accommodate SAE fits to meet your system's needs.
Highly Reliable Coupling Components
Flywheel Couplings
General Purpose Couplings
Motion Control Couplings
Specialty Couplings
Rigid Couplings
Hydraulic Pump Mounts
Quick-Joint Couplings
QUESTIONS? CONTACT US.
If you require additional information on JWF's gas spring, hydraulic, pneumatic, and electromechanical products or custom engineering capabilities, contact us. We'd be happy to assist with anything you need! Fill out the required fields in the form below and submit your inquiry. A member of our team will be in touch with you shortly.